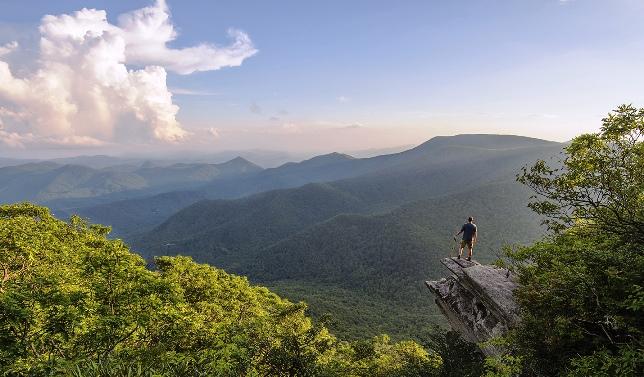 Dear brothers, sisters, family, and friends,
This month will mark the 38th anniversary of our wedding for Ellen and I. Those many years ago, when we were first married, Ellen took me to a high mountain road and a steep narrow mountain trail that ends at a beautiful mountain vista overlooking the North Georgia Mountains. It is difficult for a car to get there as the road up to the hiking trail is full of switchbacks and is not paved. Further, once you reach the trail, it ascends at a high grade for most of its length. But the task of climbing it is well worth the effort, because once you get there the rock ledges open up to beautiful, soundless, majestic, panoramic vistas overlooking all the surrounding mountains. The kind of scene that inspired one person I know of to spontaneously utter "there must be a God" sometime before he ever became a believer. A similar type of musing was expressed in a lyric of the song, "Southern Cross" by CSN, about beholding the Crux Constellation, the "Southern Cross", in the Southern hemisphere. "When you see the Southern Cross for the first time, you understand now why you came this way." The total of the reward is greater than the sum of the parts (the effort) it takes to accomplish it.
So, the reason I relate this story has to do with the name of my blog, "HighRoads". It is my hope that here on "HIghRoads" we will discuss and examine many things, but at the center of that will always be our quest for an increasingly faithful discipleship to our Lord Jesus and the "rewards" that the effort of that "upward call" on "the narrow path" will bring.
May God Bless,
Jonny